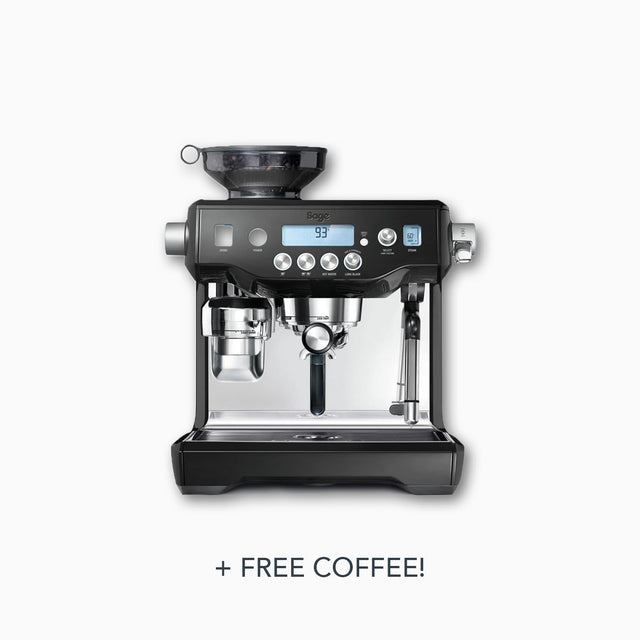 Third-wave automated coffee right from your kitchen. 
Orders will be dispatched within 7 working days. Includes a 1kg bag of Sam blend.
Automated grinding, dosing, tamping and milk texturing, automating the two most difficult parts of manual espresso. Extracting espresso and textured milk at the same time, this dual feature allows you to go from bean to a cup of coffee in under a minute. 
Features
Specifications
Auto grind and tamp:
Fully-integrated conical burr grinder automatically grinds, doses and tamps 22 grams of coffee straight into the portafilter.

Precise espresso extraction:
Dual stainless steel boilers and heated group head controlled by digital temperature control (PID), brings water to precisely the right temperature to extract maximum flavor potential.

Micro-foam milk texturing:
Self-cleaning steam wand, powered by a dedicated boiler, textures milk to your liking and delivers Barista-quality micro-foam that enhances flavor and is essential for creating latte art. Allows you to adjust the milk temperature and texture to suit your taste.

Flexible shot control:
Choose between one shot, two shots or manual control over how much espresso ends up in your cup for the perfect dose every time.

LCD display:
LCD provides you all the information you need to make coffee exactly the way you like it, every time.

One touch americano:
The innovative One Touch Americano feature delivers a double espresso, and then separately through a dedicated spout, fills the cup with hot water, the same way as any good commercial machine.
Size
37.3 x 36.8 x 44.7cm

Warranty
2 year repair, replace or refund guarantee (at the sole discretion of Sage Appliances)

Colour
Black exterior with stainless steel back plate

Water tank
2.5L

Bean hopper capacity
280g

Settings
Adjustable Grind control, programmable milk temperature and texture, one or two shots, long black, hot water.

Automatic grind and tamp

Model: BES980BKSUK - Silver
Model: 
SES980BTR4GUK1 - Black Truffle