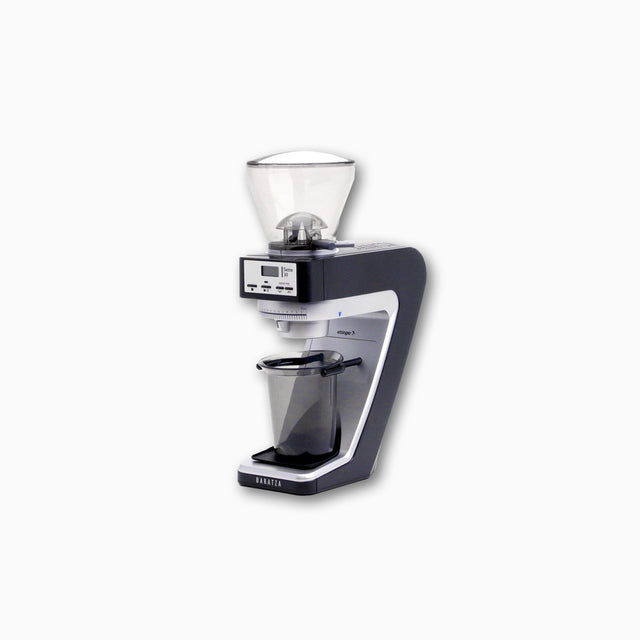 Introducing the Sette Series for multipurpose use and an immediate upgrade in your espresso game.

The all-new Sette 30 grinder from Baratza is the future of home coffee grinders.
It features a new conical bur series which is in the middle of a revolutionary new grinding technology. This new mechanism has the outer burr rotating and the inner burr is fixed. The design of this mechanism doubles the efficiency of similarly sized grinders. Coffee passes straight through the grinder, vertically dropping directly into the grounds bin or your portafilter.
The Sette 30 has a macro only adjustment for grind size, offering 31 steps of adjustment. A built-in holder allows you to grind directly into your portafilter, ground bin, or most of the popular brewing devices (Hario, Clever, Able Kone) – a standout feature amongst all other home grinders.  

Features

Specifications

Digital control panel
The Sette 30 has a simple front mounted control panel with easy to read backlit LED display. The user manually presets the grind time to within 0.1 seconds. Simply press the start button and the Sette automatically delivers precise dosing. 
Burrs
Built with 40mm conical S1 burrs, which are designed to give a grind profile that is exceptional for espresso and good for brew methods requiring a finer grind (e.g. AeroPress, Hario V60, and most Automatic Brewers).
The Sette 30 grinds 3.5 to 5.5 grams per second, depending on roast and grind setting. The burrs are durable, and will remain sharp for many years.
Grind adjustment
The Sette has a macro adjust of 31 steps, designed to give a grind profile that is exceptional for espresso and good for brew methods requiring a finer grind. The macro mechanism is directly connected to the cone burr resulting in immediate and true grind adjustment. 
Device holder and grounds bin
The Sette 30 has a device holder that allows you to remove and re-orient the arms to grind directly into a portafilter or into the supplied grounds bin.
The Sette's grounds bin is made from an anti-static plastic, with a moulded spout for easy pouring into your preferred brewing device. It has a usable capacity of 160g (Med Roast).
Hopper
The hopper holds approximately 250-400g of coffee. An innovative bean shutoff feature in the collar permits no-mess, no-fuss hopper removal for changing out beans.
Minimal retention
To maximize freshness, the Sette minimizes the ground coffee left in the grinder.
Brewing methods
Designed as an entry level grinder for those who want to seriously up their game, the Sette 30 is exceptional for all brewing methods, from espresso to manual brew, but has less micro control when it comes to espresso grind size.
Speed To Grind
Espresso 3.5g/sec—Manual Brewing 5.5g/sec

Burrs
40 mm Steel by Etzinger

Bean Hopper Capacity
300-400 g

Grounds Bin Capacity
160g

Weight 
3.2 kg

Dimensions (mm)
130W x 240D x 400H

Hopper capacity (Kg)
1.2